Soroptimist International Port Angeles Jet Set
---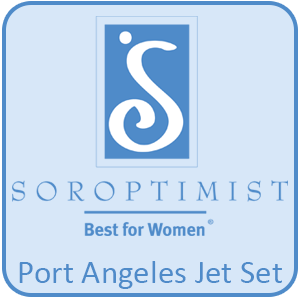 LIVE YOUR DREAM AWARD APPLICATION DEADLINE NOVEMBER 15, 2015
The Soroptimist Live Your Dream Awards (formerly the Women's Opportunity Awards) assists women who provide the primary source of financial support for their families by giving them the resources they need to improve their education, skills and employment prospects.
Each year, more than $1.6 million in education grants are awarded to more than 1,200 women, many of whom have overcome enormous obstacles including poverty, domestic violence and/or drug and alcohol abuse. Live Your Dream Awards recipients may use the cash award to offset any costs associated with their efforts to attain higher education, such as books, childcare, tuition and transportation.
For more information or to apply go to http://www.soroptimist.org/awards/live-your-dream-awards.html
One of two Soroptimist clubs in Port Angeles, Washington, Soroptimist International Jet Set members meet weekly on Thursday mornings at 7:00 AM at the Port Angeles Community Center, 7th and Peabody Street. While we gladly welcome guests, membership requires sponsorship from a current member. We'd love to have you attend one of our meetings or you can contact us for more detailed information.
Founded in 1921, Soroptimist provides an opportunity for business and professional women to volunteer in their communities. Almost 100,000 Soroptimists in 120 countries and territories, contribute time and support to community–based and international projects benefiting women and girls. Soroptimist clubs participate in organizational programs on the local level to meet the unique needs of their communities.
The word "soroptimist" is a coined latin phrase meaning "best for women" and that's what the organization strives to achieve. Soroptimists are women at their best, working to help women and girls to be their best.
Soroptimists are women of all ages, cultures, and ethnic groups. Members represent a wide array of professions including medical, legal, banking and investment, educational, private and corporate business, and governmental, to name a few. Soroptimists are leaders in their communities who believe that by joining with other women, they can make their local community and the world a better place for women and girls.
Please visit www.soroptimist.org to learn more about Soroptimist International.